EFL TROPHY
First played:

1984



Seasons:

38



Wikipedia:




Holders:

Rotherham United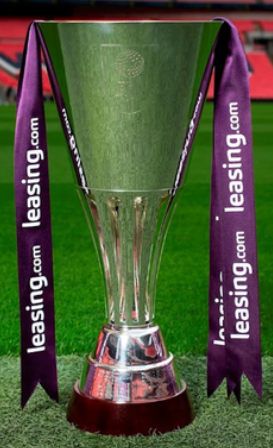 The EFL Trophy is open to the clubs in the third and fourth tiers of the English league as well as (since 2016) U-21 teams from the top two divisions. It began in the 1983-84 season as the Associate Members' Cup, but in 1992, after the lower-division clubs became full members of the Football League, it was renamed the Football League Trophy.
During our spell in the third tier from 2005-2008 Forest played in the trophy three times. We only progressed past the first round once, losing to Bristol City in the third round. Interestingly, we scored two goals in every game in the EFL Trophy.
In 2023, our Under-21 team was invited to play in the Trophy.
RECORDSMost goals scored: 2
2-3 (
Tue Oct 18, 2005
, Away,
Woking
)
2-1 (
Wed Oct 18, 2006
, Away,
Gillingham
)
2-1 (
Tue Oct 31, 2006
, Home,
Brentford
)
2-2 (
Wed Nov 29, 2006
, Home,
Bristol City
)
2-3 (
Tue Sep 04, 2007
, Home,
Peterborough United
)
Biggest Winning Margin: 1
2-1 (
Wed Oct 18, 2006
, Away,
Gillingham
)
2-1 (
Tue Oct 31, 2006
, Home,
Brentford
)
Most Goals Conceded: 3
2-3 (
Tue Oct 18, 2005
, Away,
Woking
)
2-3 (
Tue Sep 04, 2007
, Home,
Peterborough United
)
Biggest Losing Margin: 1
2-3 (
Tue Oct 18, 2005
, Away,
Woking
)
2-3 (
Tue Sep 04, 2007
, Home,
Peterborough United
)
1-2 (
Tue Sep 05, 2023
, Away,
Harrogate Town
)



Highest Attendance Home:

4,107 &nbsp&nbsp(Wed Nov 29, 2006, Bristol City)



Highest Attendance Away:

3,127 &nbsp&nbsp(Tue Oct 18, 2005, Woking)



TOP SCORER(S)
3 goals:&nbsp Grant Holt (3 games)


Overall EFL Trophy RecordRound by roundAll games
| Season | Date | Opponent | Round | H/A | Score | Ground | Scorers |
| --- | --- | --- | --- | --- | --- | --- | --- |
| 2005-06 | Tue Oct 18, 2005 | Woking | 1 | A | 2-3 | Kingfield | Bopp (20), Weir-Daley (38) |
| 2006-07 | Wed Oct 18, 2006 | Gillingham | 1 | A | 2-1 | Priestfield Stadium | Lester (7), Holt (55) |
| | Tue Oct 31, 2006 | Brentford | 2 | H | 2-1 | | Southall (47), Holt (56) |
| | Wed Nov 29, 2006 | Bristol City | 3 | H | 2-2 | | Morgan (45), Holt (79) |
| 2007-08 | Tue Sep 04, 2007 | Peterborough United | 1 | H | 2-3 | | Chambers (33, 49) |
| 2023-24 | Tue Sep 05, 2023 | Harrogate Town | 1 | A | 1-2 | Wetherby Road | Osong (84) |
| | Tue Oct 10, 2023 | Carlisle United | 1 | A | - | Brunton Park | |
| | Tue Nov 14, 2023 | Accrington Stanley | 1 | A | - | Crown Ground | |