JACK EARP
Full Name:

Martin John 'Jack' Earp


Position:

Defender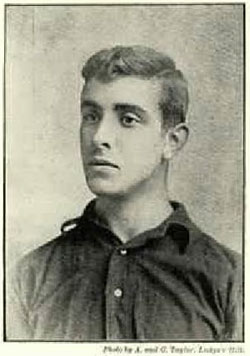 STATS (Competitive games only):
Debut:

Last Game:

Appearances:

Goals:




Own Goals:




Yellow Cards:

Red Cards:
Intnl. Country:

-



Caps while at Forest:

-



Goals while at Forest:

-



Total Caps:

-



Total Goals:

-


Shirt numbers:

2 (17 appearances) , 5 (3) , 3 (1)
Managers:

Harry Radford (21 appearances)
Notes:
Jack Earp was the younger brother of Teddy Earp. He had a strange agreement with Everton that he would play for them if not needed by Forest and indeed played for Everton several times while a Forest player until joining them officially in November 1891. His final game for them was actually
against
Forest on Mar 24 1892. His competitive debut with Forest was then against Everton, in Forest's first League game, at Goodison Park.
SOURCES:
Wikipedia:




Other source:



SEASON STATS (Competitive games only)
Season
Squad Num
Played
Won
Drawn
Lost
Goals
Yellows
Reds
Own
Goals
Went Off
Came On
Unused
Sub
Notes
1889-90
-
1
-
-
1
-
-
-
-
-
-
-
1890-91
-
5
2
2
1
-
-
-
-
-
-
-
1891-92
-
-
-
-
-
-
-
-
-
-
-
-
1892-93
-
15
4
3
8
-
-
-
-
-
-
-
TRANSFERSRECORD FOR JACK EARP
Game
First Game
Last Game
P
W
D
L
Goals
Yellows
Reds
Own Goals
Started
Came On
Went Off
Unused Sub
COMPETITIVE
League Tier 1
Sep 03, 1892
Mar 31, 1893
13
3
3
7
13
League Tier 2
League Tier 3
Playoffs
FA Cup
Jan 18, 1890
Feb 04, 1893
8
3
2
3
8
League Cup
European Cup
Fairs Cup
UEFA Cup
Super Cup
Intercontinental Cup
Full Members Cup
EFL Trophy
Charity Shield
Anglo-Scottish Cup
Anglo-Italian Cup
Total (Comp)
Jan 18, 1890
Mar 31, 1893
21
6
5
10
21
NON-COMPETITIVE
Football Alliance
Feb 01, 1890
Apr 23, 1892
32
16
7
9
32
Friendly
Jan 25, 1890
Apr 15, 1893
34
20
4
10
34
Testimonial
Apr 17, 1890
Apr 17, 1890
1
1
1
TOTAL (Non-Comp)
Jan 25, 1890
Apr 15, 1893
67
36
11
20
67
TOTAL OVERALL
Jan 18, 1890
Apr 15, 1893
88
42
16
30
88
MISC
League Total
Sep 03, 1892
Mar 31, 1893
13
3
3
7
13
ALL GAMES FOR JACK EARP (Competitive: 21, Other: 67)
#
Date
Game
Opponent
H/A
Score
Num
Started
Came
On
Went
Off
Unused
sub
Goals
scored
Yellow
Red
1889-90
1
Sat Jan 18, 1890
FA Cup
Derby Midland
A
0-3
2
Started
Sat Jan 25, 1890
Friendly
Everton
A
0-7
4
Started
Sat Feb 01, 1890
Football Alliance
Darwen
H
3-1
2
Started
Sat Feb 08, 1890
Friendly
Chatham
A
1-1
2
Started
Sat Feb 15, 1890
Football Alliance
Newton Heath
H
1-3
2
Started
Sat Feb 22, 1890
Football Alliance
Long Eaton Rangers
H
1-1
2
Started
Sat Mar 01, 1890
Friendly
Sheffield United
A
2-1
3
Started
Sat Mar 08, 1890
Friendly
Small Heath
A
0-12
2
Started
Sat Mar 15, 1890
Friendly
Chatham
H
2-0
3
Started
Sat Mar 22, 1890
Football Alliance
Darwen
A
0-9
2
Started
Sat Mar 29, 1890
Football Alliance
Walsall Town Swifts
H
3-0
2
Started
Sat Apr 05, 1890
Football Alliance
Newton Heath
A
1-0
2
Started
Mon Apr 07, 1890
Football Alliance
Bootle
A
0-2
2
Started
Thu Apr 17, 1890
Testimonial
Notts Rangers
A
1-4
4
Started
1890-91
Mon Sep 01, 1890
Friendly
Wolverhampton Wanderers
A
0-1
2
Started
Sat Sep 06, 1890
Football Alliance
Bootle
A
5-1
2
Started
Sat Sep 13, 1890
Football Alliance
Darwen
H
5-2
2
Started
Mon Sep 15, 1890
Friendly
Heart Of Midlothian
A
0-1
2
Started
Sat Sep 20, 1890
Football Alliance
Newton Heath
A
1-1
2
Started
Sat Sep 27, 1890
Football Alliance
Crewe Alexandra
H
5-2
2
Started
Mon Sep 29, 1890
Friendly
Sheffield United
A
2-1
2
Started
Thu Oct 02, 1890
Friendly
Queen's Park
H
4-2
2
Started
Fri Oct 03, 1890
Friendly
Stoke
H
2-2
2
Started
Sat Oct 11, 1890
Football Alliance
Sunderland Albion
A
0-0
2
Started
Sat Oct 18, 1890
Football Alliance
Bootle
H
7-0
2
Started
Thu Oct 23, 1890
Friendly
Aston Villa
H
3-0
2
Started
Sat Nov 01, 1890
Football Alliance
The Wednesday
A
2-0
2
Started
Sat Nov 08, 1890
Football Alliance
Birmingham St George's
H
4-0
2
Started
Sat Nov 22, 1890
Football Alliance
Newton Heath
H
8-2
2
Started
Thu Nov 27, 1890
Friendly
Bolton Wanderers
H
7-1
2
Started
Sat Nov 29, 1890
Friendly
Stoke
A
1-2
2
Started
Sat Dec 06, 1890
Friendly
Clyde
A
5-2
2
Started
Sat Dec 13, 1890
Football Alliance
Darwen
A
4-4
2
Started
Fri Dec 26, 1890
Friendly
Notts
A
0-0
2
Started
Sat Dec 27, 1890
Football Alliance
Grimsby Town
H
1-1
2
Started
Sat Jan 03, 1891
Friendly
Heart Of Midlothian
H
8-2
2
Started
2
Sat Jan 17, 1891
FA Cup
Clapton
A
14-0
2
Started
Sat Jan 24, 1891
Football Alliance
Sunderland Albion
H
1-1
2
Started
3
Sat Jan 31, 1891
FA Cup
Sunderland Albion
A
1-1
2
Started
Mon Feb 02, 1891
Football Alliance
Birmingham St George's
A
3-6
2
Started
4
Sat Feb 07, 1891
FA Cup
Sunderland Albion
H
3-3
2
Started
5
Wed Feb 11, 1891
FA Cup
Sunderland Albion
N
5-0
2
Started
6
Sat Feb 14, 1891
FA Cup
Sunderland
A
0-4
2
Started
Sat Feb 21, 1891
Football Alliance
Crewe Alexandra
A
7-0
2
Started
Thu Feb 26, 1891
Football Alliance
Small Heath
H
4-5
2
Started
Sat Feb 28, 1891
Football Alliance
Small Heath
A
2-4
2
Started
Thu Mar 12, 1891
Friendly
West Bromwich Albion
H
2-3
2
Started
Sat Mar 14, 1891
Football Alliance
Walsall Town Swifts
H
2-0
2
Started
Tue Mar 31, 1891
Friendly
Royal Arsenal
A
5-0
3
Started
Sat Apr 04, 1891
Football Alliance
Walsall Town Swifts
A
2-3
2
Started
Thu Apr 09, 1891
Football Alliance
Grimsby Town
A
0-3
2
Started
Sat Apr 11, 1891
Friendly
Glasgow Rangers
H
3-0
2
Started
Sat Apr 18, 1891
Friendly
Notts
H
2-4
2
Started
Mon Apr 20, 1891
Friendly
Everton
A
1-1
2
Started
Mon Apr 27, 1891
Friendly
Burnley
A
0-3
2
Started
1891-92
Thu Sep 03, 1891
Football Alliance
Burton Swifts
H
7-0
2
Started
Wed Sep 09, 1891
Friendly
Mansfield
A
4-0
3
Started
Mon Sep 21, 1891
Friendly
Everton
A
0-2
2
Started
Thu Oct 01, 1891
Friendly
Canadians
H
5-0
3
Started
Thu Oct 08, 1891
Football Alliance
Small Heath
H
2-0
2
Started
Sat Oct 10, 1891
Friendly
Sunderland Albion
H
5-3
2
Started
Sat Oct 17, 1891
Football Alliance
Crewe Alexandra
H
5-0
2
Started
Sat Nov 07, 1891
Football Alliance
The Wednesday
H
1-1
2
Started
Thu Dec 03, 1891
Friendly
Stoke
H
2-0
2
Started
Sat Mar 26, 1892
Friendly
Darwen
H
3-0
3
Started
Sat Apr 09, 1892
Friendly
Grimsby Town
A
3-2
3
Started
Sat Apr 16, 1892
Football Alliance
Small Heath
A
2-1
3
Started
Sat Apr 23, 1892
Football Alliance
Crewe Alexandra
A
0-2
3
Started
1892-93
7
Sat Sep 03, 1892
League Tier 1
Everton
A
2-2
2
Started
8
Sat Sep 17, 1892
League Tier 1
Preston North End
A
0-1
5
Started
9
Sat Sep 24, 1892
League Tier 1
Preston North End
H
1-2
5
Started
10
Mon Oct 03, 1892
League Tier 1
The Wednesday
A
2-2
5
Started
11
Sat Oct 15, 1892
League Tier 1
Aston Villa
A
0-1
2
Started
12
Thu Oct 20, 1892
League Tier 1
Bolton Wanderers
H
2-0
2
Started
13
Sat Oct 22, 1892
League Tier 1
Stoke City
A
0-3
2
Started
14
Sat Oct 29, 1892
League Tier 1
Newton Heath
H
1-1
2
Started
Thu Nov 03, 1892
Friendly
Sheffield United
H
0-1
2
Started
15
Sat Nov 12, 1892
League Tier 1
Aston Villa
H
4-5
3
Started
Sat Dec 17, 1892
Friendly
Royal Arsenal
A
3-2
3
Started
Mon Dec 26, 1892
Friendly
Notts County
A
1-0
3
Started
16
Sat Jan 07, 1893
League Tier 1
Accrington Stanley
H
3-0
2
Started
17
Thu Jan 12, 1893
League Tier 1
Everton
H
2-1
2
Started
18
Sat Jan 21, 1893
FA Cup
Casuals
H
4-0
2
Started
19
Sat Feb 04, 1893
FA Cup
Everton
A
2-4
2
Started
Sat Feb 18, 1893
Friendly
Derby County
H
3-2
2
Started
20
Thu Mar 02, 1893
League Tier 1
West Bromwich Albion
H
3-4
2
Started
21
Fri Mar 31, 1893
League Tier 1
Bolton Wanderers
A
1-3
2
Started
Sat Apr 15, 1893
Friendly
Leicester Fosse
A
5-1
2
Started