MARK CROSSLEY
Full Name:

Mark Geoffrey 'Big Norm' Crossley


Position:

Goalkeeper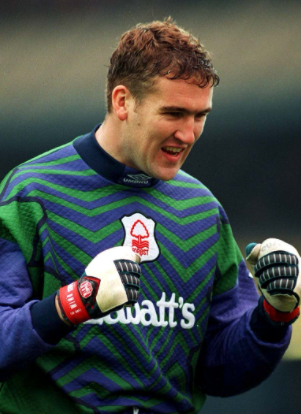 STATS (Competitive games only):
Debut:

Last Game:

Appearances:

Goals:




Own Goals:




Yellow Cards:

Red Cards:
Penalties saved:



Shirt numbers:

1 (309 appearances) , 12 (53) , (53) , 13 (47)
Managers:

Brian Clough (172 appearances) , Frank Clark (176) , Dave Bassett (25) , Ron Atkinson (17) , David Platt (52)
Notes:
'Big Norm' was a very popular player at the City Ground after serving an apprenticeship under Hans Segers and Steve Sutton. He played almost 400 games over 13 seasons which included some interesting stats.
He was only the
second goalkeeper to save a penalty in an FA Cup Final
(the first was Dave Beasant, also a Forest player), was the first player to score a Premier League own goal (on
5 September 1992
away at Blackburn Rovers) and the
only goalkeeper to save a Matt Le Tisser penalty
(Le Tissier scored 47 of his 48 spot kicks during his career).
Norm is also now available on Cameo.com for personal messages! Request a message from him now at
cameo.com/crossley
!
SOURCES:
Wikipedia:




Barry Hugman:




TransferMarkt:




ElevenvEleven:



SEASON STATS (Competitive games only)TRANSFERSRECORD FOR MARK CROSSLEY
Game
First Game
Last Game
P
W
D
L
Goals
Yellows
Reds
Own Goals
Started
Came On
Went Off
Unused Sub
COMPETITIVE
League Tier 1
Oct 26, 1988
May 16, 1999
246
88
71
87
2
2
246
31
League Tier 2
Aug 15, 1993
Jan 29, 2000
57
24
18
15
1
55
2
31
League Tier 3
Playoffs
FA Cup
Jan 06, 1991
Feb 15, 1997
32
16
9
7
1
32
4
League Cup
Nov 02, 1988
Oct 13, 1999
40
22
11
7
39
1
1
3
European Cup
Fairs Cup
UEFA Cup
Sep 12, 1995
Mar 19, 1996
8
3
2
3
8
Super Cup
Intercontinental Cup
Full Members Cup
Nov 29, 1989
Feb 26, 1992
8
6
1
1
8
EFL Trophy
Charity Shield
Anglo-Scottish Cup
Anglo-Italian Cup
Sep 08, 1993
Sep 15, 1993
2
1
1
2
Total (Comp)
Oct 26, 1988
Jan 29, 2000
393
159
113
121
3
1
2
390
3
1
69
NON-COMPETITIVE
Football League Centenary Tournament
2
County Cup
Aug 22, 1990
Aug 04, 1998
4
3
1
4
Friendly
Nov 21, 1988
May 27, 1995
10
5
2
3
1
9
1
2
Pre-Season Friendly
Jul 31, 1988
Jul 24, 1999
41
25
8
8
38
3
1
1
Testimonial
Jul 24, 1988
May 16, 2005
5
3
2
1
4
1
1
TOTAL (Non-Comp)
Jul 24, 1988
May 16, 2005
60
36
11
13
2
55
5
4
3
TOTAL OVERALL
Jul 24, 1988
May 16, 2005
453
195
124
134
2
3
1
2
445
8
5
72
MISC
League Total
Oct 26, 1988
Jan 29, 2000
303
112
89
102
3
2
301
2
62
Premier League Total
Aug 16, 1992
May 16, 1999
194
71
56
67
2
1
1
193
1
34
ALL GAMES FOR MARK CROSSLEY (Competitive: 393, Other: 60)
#
Date
Game
Opponent
H/A
Score
Num
Started
Came
On
Went
Off
Unused
sub
Goals
scored
Yellow
Red
1987-88
Sat Apr 16, 1988
Football League Centenary Tournament
Leeds United
N
3-0
16
Tue Apr 19, 1988
Football League Centenary Tournament
Sheffield Wednesday
N
0-0
16
1988-89
Sun Jul 24, 1988
Testimonial
Keyworth
A
8-0
17
Sun Jul 31, 1988
Pre-Season Friendly
Sandvikens IF
A
2-1
1
Started
1
Wed Oct 26, 1988
League Tier 1
Liverpool
H
2-1
1
Started
2
Sat Oct 29, 1988
League Tier 1
Newcastle United
A
1-0
1
Started
3
Wed Nov 02, 1988
League Cup
Coventry City
H
3-2
1
Started
Mon Nov 21, 1988
Friendly
Grantham Town
A
4-1
13
1989-90
Sat Aug 05, 1989
Pre-Season Friendly
Angouleme
A
1-1
13
4
Sun Nov 12, 1989
League Tier 1
Manchester United
A
0-1
1
Started
5
Sat Nov 18, 1989
League Tier 1
Manchester City
A
3-0
1
Started
6
Wed Nov 22, 1989
League Cup
Everton
H
1-0
1
Started
7
Sat Nov 25, 1989
League Tier 1
Everton
H
1-0
1
Started
8
Wed Nov 29, 1989
Full Members Cup
Manchester City
H
3-2
1
Started
9
Sat Dec 02, 1989
League Tier 1
Aston Villa
A
1-2
1
Started
10
Sat Apr 14, 1990
League Tier 1
Liverpool
A
2-2
1
Started
11
Mon Apr 16, 1990
League Tier 1
Luton Town
H
3-0
1
Started
12
Sat Apr 21, 1990
League Tier 1
Southampton
A
0-2
1
Started
13
Wed May 02, 1990
League Tier 1
Manchester United
H
4-0
1
Started
1990-91
Sun Jul 29, 1990
Pre-Season Friendly
Bengtsfors
A
5-1
14
Wed Aug 01, 1990
Pre-Season Friendly
Mariestads
A
2-0
1
Started
Sun Aug 05, 1990
Pre-Season Friendly
Kongahalla
A
3-0
12
Tue Aug 07, 1990
Pre-Season Friendly
Karlsunds
A
7-1
1
Started
Wed Aug 15, 1990
Pre-Season Friendly
Avelino
A
1-1
1
Started
Wed Aug 22, 1990
County Cup
Mansfield Town
H
5-1
1
Started
14
Sat Aug 25, 1990
League Tier 1
Queens Park Rangers
H
1-1
1
Started
15
Tue Aug 28, 1990
League Tier 1
Liverpool
A
0-2
1
Started
16
Sat Sep 01, 1990
League Tier 1
Coventry City
A
2-2
1
Started
17
Sat Sep 08, 1990
League Tier 1
Southampton
H
3-1
1
Started
18
Sat Sep 15, 1990
League Tier 1
Crystal Palace
A
2-2
1
Started
19
Sat Sep 22, 1990
League Tier 1
Arsenal
H
0-2
1
Started
20
Wed Sep 26, 1990
League Cup
Burnley
H
4-1
1
Started
21
Sat Sep 29, 1990
League Tier 1
Manchester United
A
1-0
1
Started
22
Sun Oct 07, 1990
League Tier 1
Everton
H
3-1
1
Started
23
Wed Oct 10, 1990
League Cup
Burnley
A
1-0
1
Started
24
Sat Oct 20, 1990
League Tier 1
Chelsea
A
0-0
1
Started
25
Sat Oct 27, 1990
League Tier 1
Tottenham Hotspur
H
1-2
1
Started
26
Wed Oct 31, 1990
League Cup
Plymouth Argyle
A
2-1
1
Started
27
Sat Nov 03, 1990
League Tier 1
Leeds United
A
1-3
1
Started
28
Sat Nov 10, 1990
League Tier 1
Aston Villa
A
1-1
1
Started
29
Sat Nov 17, 1990
League Tier 1
Sunderland
H
2-0
1
Started
30
Wed Nov 21, 1990
Full Members Cup
Newcastle United
H
2-1
1
Started
31
Sat Nov 24, 1990
League Tier 1
Derby County
A
1-2
1
Started
32
Wed Nov 28, 1990
League Cup
Coventry City
A
4-5
1
Started
33
Sat Dec 01, 1990
League Tier 1
Luton Town
H
2-2
1
Started
34
Sat Dec 15, 1990
League Tier 1
Queens Park Rangers
A
2-1
1
Started
35
Sat Dec 22, 1990
League Tier 1
Sheffield United
A
2-3
1
Started
36
Wed Dec 26, 1990
League Tier 1
Wimbledon
H
2-1
1
Started
37
Sat Dec 29, 1990
League Tier 1
Manchester City
H
1-3
1
Started
38
Wed Jan 02, 1991
League Tier 1
Norwich City
A
6-2
1
Started
39
Sun Jan 06, 1991
FA Cup
Crystal Palace
A
0-0
1
Started
40
Sat Jan 12, 1991
League Tier 1
Coventry City
H
3-0
1
Started
41
Sat Jan 19, 1991
League Tier 1
Southampton
A
1-1
1
Started
42
Mon Jan 21, 1991
FA Cup
Crystal Palace
H
2-2
1
Started
43
Mon Jan 28, 1991
FA Cup
Crystal Palace
H
3-0
1
Started
44
Wed Jan 30, 1991
Full Members Cup
Barnsley
A
1-2
1
Started
45
Sat Feb 02, 1991
League Tier 1
Crystal Palace
H
0-1
1
Started
46
Wed Feb 13, 1991
FA Cup
Newcastle United
A
2-2
1
Started
47
Sat Feb 16, 1991
League Tier 1
Sunderland
A
0-1
1
Started
48
Mon Feb 18, 1991
FA Cup
Newcastle United
H
3-0
1
Started
49
Sat Feb 23, 1991
League Tier 1
Aston Villa
H
2-2
1
Started
50
Mon Feb 25, 1991
FA Cup
Southampton
A
1-1
1
Started
51
Sat Mar 02, 1991
League Tier 1
Luton Town
A
0-1
1
Started
52
Mon Mar 04, 1991
FA Cup
Southampton
H
3-1
1
Started
53
Sat Mar 09, 1991
FA Cup
Norwich City
A
1-0
1
Started
54
Sat Mar 16, 1991
League Tier 1
Manchester United
H
1-1
1
Started
55
Wed Mar 20, 1991
League Tier 1
Arsenal
A
1-1
1
Started
56
Sat Mar 23, 1991
League Tier 1
Everton
A
0-0
1
Started
57
Sat Mar 30, 1991
League Tier 1
Wimbledon
A
1-3
1
Started
58
Mon Apr 01, 1991
League Tier 1
Sheffield United
H
2-0
1
Started
59
Sat Apr 06, 1991
League Tier 1
Manchester City
A
1-3
1
Started
60
Wed Apr 10, 1991
League Tier 1
Derby County
H
1-0
1
Started
61
Sun Apr 14, 1991
FA Cup
West Ham United
N
4-0
1
Started
62
Sat Apr 20, 1991
League Tier 1
Chelsea
H
7-0
1
Started
63
Wed Apr 24, 1991
League Tier 1
Norwich City
H
5-0
1
Started
64
Sat May 04, 1991
League Tier 1
Tottenham Hotspur
A
1-1
1
Started
65
Mon May 06, 1991
League Tier 1
Liverpool
H
2-1
1
Started
66
Sat May 11, 1991
League Tier 1
Leeds United
H
4-3
1
Started
Mon May 13, 1991
Testimonial
Notts County
A
1-2
1
Started
67
Sat May 18, 1991
FA Cup
Tottenham Hotspur
N
1-2
1
Started
1991-92
Sat Jul 27, 1991
Pre-Season Friendly
Cobh Ramblers
A
5-0
1
Started
Sat Aug 03, 1991
Pre-Season Friendly
Atta IF
A
6-0
1
Started
Thu Aug 08, 1991
Pre-Season Friendly
Vasalunds
A
2-2
1
Started
Sun Aug 11, 1991
County Cup
Notts County
H
2-1
1
Started
68
Sat Aug 17, 1991
League Tier 1
Everton
H
2-1
1
Started
69
Tue Aug 20, 1991
League Tier 1
Leeds United
A
0-1
1
Started
70
Sat Aug 24, 1991
League Tier 1
Notts County
A
4-0
1
Started
71
Wed Aug 28, 1991
League Tier 1
Tottenham Hotspur
H
1-3
1
Started
72
Sat Aug 31, 1991
League Tier 1
Oldham Athletic
H
3-1
1
Started
73
Wed Sep 04, 1991
League Tier 1
Manchester City
A
1-2
1
Started
74
Sat Sep 07, 1991
League Tier 1
Sheffield Wednesday
A
1-2
1
Started
75
Sat Sep 14, 1991
League Tier 1
Wimbledon
H
4-2
1
Started
76
Sat Sep 21, 1991
League Tier 1
Aston Villa
A
1-3
1
Started
77
Wed Sep 25, 1991
League Cup
Bolton Wanderers
H
4-0
1
Started
78
Sat Sep 28, 1991
League Tier 1
West Ham United
H
2-2
1
Started
79
Sat Oct 05, 1991
League Tier 1
Queens Park Rangers
A
2-0
1
Started
80
Tue Oct 08, 1991
League Cup
Bolton Wanderers
A
5-2
1
Started
81
Sat Oct 19, 1991
League Tier 1
Sheffield United
A
2-4
1
Started
82
Tue Oct 22, 1991
Full Members Cup
Leeds United
A
3-1
1
Started
83
Sat Oct 26, 1991
League Tier 1
Southampton
H
1-3
1
Started
84
Wed Oct 30, 1991
League Cup
Bristol Rovers
H
2-0
1
Started
85
Sat Nov 02, 1991
League Tier 1
Norwich City
A
0-0
1
Started
86
Sat Nov 16, 1991
League Tier 1
Coventry City
H
1-0
1
Started
87
Tue Nov 19, 1991
Full Members Cup
Aston Villa
A
2-0
1
Started
88
Sat Nov 23, 1991
League Tier 1
Crystal Palace
H
5-1
1
Started
89
Sat Nov 30, 1991
League Tier 1
Chelsea
A
0-1
1
Started
90
Wed Dec 04, 1991
League Cup
Southampton
H
0-0
1
Started
91
Sun Dec 08, 1991
League Tier 1
Arsenal
H
3-2
1
Started
92
Tue Dec 10, 1991
Full Members Cup
Tranmere Rovers
A
2-0
1
Started
93
Sat Dec 14, 1991
League Tier 1
Liverpool
A
0-2
1
Started
94
Tue Dec 17, 1991
League Cup
Southampton
A
1-0
1
Started
95
Sun Dec 22, 1991
League Tier 1
Leeds United
H
0-0
1
Started
96
Thu Dec 26, 1991
League Tier 1
Tottenham Hotspur
A
2-1
1
Started
97
Sat Dec 28, 1991
League Tier 1
Oldham Athletic
A
1-2
1
Started
98
Wed Jan 01, 1992
League Tier 1
Luton Town
H
1-1
1
Started
99
Sat Jan 04, 1992
FA Cup
Wolverhampton Wanderers
H
1-0
1
Started
100
Wed Jan 08, 1992
League Cup
Crystal Palace
A
1-1
1
Started
101
Sat Jan 11, 1992
League Tier 1
Notts County
H
1-1
1
Started
102
Sun Jan 19, 1992
League Tier 1
Everton
A
1-1
1
Started
103
Sun Jan 26, 1992
FA Cup
Hereford United
H
2-0
1
Started
104
Sat Feb 01, 1992
League Tier 1
Sheffield United
H
2-5
1
Started
105
Wed Feb 05, 1992
League Cup
Crystal Palace
H
4-2
1
Started
106
Sun Feb 09, 1992
League Cup
Tottenham Hotspur
H
1-1
1
Started
107
Wed Feb 12, 1992
Full Members Cup
Leicester City
A
1-1
1
Started
108
Sat Feb 15, 1992
FA Cup
Bristol City
H
4-1
1
Started
109
Sat Feb 22, 1992
League Tier 1
Chelsea
H
1-1
1
Started
110
Wed Feb 26, 1992
Full Members Cup
Leicester City
H
2-0
1
Started
111
Sun Mar 01, 1992
League Cup
Tottenham Hotspur
A
2-1
1
Started
112
Tue Mar 03, 1992
League Tier 1
Crystal Palace
A
0-0
1
Started
113
Sat Mar 07, 1992
FA Cup
Portsmouth
A
0-1
1
Started
114
Wed Mar 11, 1992
League Tier 1
Coventry City
A
2-0
1
Started
115
Sat Mar 14, 1992
League Tier 1
Norwich City
H
2-0
1
Started
116
Tue Apr 14, 1992
League Tier 1
Luton Town
A
1-2
1
Started
117
Sat Apr 18, 1992
League Tier 1
Aston Villa
H
2-0
1
Started
118
Mon Apr 20, 1992
League Tier 1
Manchester United
A
2-1
1
Started
119
Wed Apr 22, 1992
League Tier 1
Liverpool
H
1-1
1
Started
120
Sat Apr 25, 1992
League Tier 1
Queens Park Rangers
H
1-1
1
Started
121
Sat May 02, 1992
League Tier 1
West Ham United
A
0-3
1
Started
1992-93
Mon Jul 27, 1992
Pre-Season Friendly
Dundalk
A
4-1
1
Started
Sat Aug 01, 1992
Pre-Season Friendly
Sampdoria
N
0-2
1
Started
Sun Aug 02, 1992
Pre-Season Friendly
VfB Stuttgart
N
0-1
1
Started
Fri Aug 07, 1992
Pre-Season Friendly
Ards
A
6-1
1
Started
Sun Aug 09, 1992
Pre-Season Friendly
Derry City
A
2-2
1
Started
122
Sun Aug 16, 1992
League Tier 1
Liverpool
H
1-0
1
Started
123
Wed Aug 19, 1992
League Tier 1
Sheffield Wednesday
A
0-2
1
Started
124
Sat Aug 22, 1992
League Tier 1
Oldham Athletic
A
3-5
1
Started
125
Sat Aug 29, 1992
League Tier 1
Manchester United
H
0-2
1
Started
126
Mon Aug 31, 1992
League Tier 1
Norwich City
A
1-3
1
Started
127
Sat Sep 05, 1992
League Tier 1
Blackburn Rovers
A
1-4
1
Started
128
Sat Sep 12, 1992
League Tier 1
Sheffield Wednesday
H
1-2
1
Started
Mon Sep 14, 1992
Friendly
Derby County
H
0-2
1
Started
129
Mon Sep 21, 1992
League Tier 1
Coventry City
H
1-1
1
Started
130
Wed Sep 23, 1992
League Cup
Stockport County
A
3-2
1
Started
131
Sat Sep 26, 1992
League Tier 1
Chelsea
A
0-0
1
Started
132
Sat Oct 03, 1992
League Tier 1
Manchester City
A
2-2
1
Started
133
Wed Oct 07, 1992
League Cup
Stockport County
H
2-1
1
Started
134
Sat Oct 17, 1992
League Tier 1
Arsenal
H
0-1
1
Started
135
Wed Oct 21, 1992
League Tier 1
Middlesbrough
H
1-0
1
Started
136
Sat Oct 24, 1992
League Tier 1
Sheffield United
A
0-0
1
Started
137
Wed Oct 28, 1992
League Cup
Crewe Alexandra
A
1-0
1
Started
138
Sat Oct 31, 1992
League Tier 1
Ipswich Town
H
0-1
1
Started
139
Sat Nov 07, 1992
League Tier 1
Everton
H
0-1
1
Started
140
Sat Nov 21, 1992
League Tier 1
Crystal Palace
A
1-1
1
Started
141
Sat Nov 28, 1992
League Tier 1
Southampton
H
1-2
1
Started
142
Wed Dec 02, 1992
League Cup
Tottenham Hotspur
H
2-0
1
Started
143
Sat Dec 05, 1992
League Tier 1
Leeds United
A
4-1
1
Started
144
Sat Dec 12, 1992
League Tier 1
Aston Villa
A
1-2
1
Started
145
Sun Dec 20, 1992
League Tier 1
Wimbledon
H
1-1
1
Started
146
Mon Dec 28, 1992
League Tier 1
Tottenham Hotspur
A
1-2
1
Started
147
Sun Jan 03, 1993
FA Cup
Southampton
H
2-1
1
Started
148
Sat Jan 09, 1993
League Tier 1
Coventry City
A
1-0
1
Started
149
Tue Jan 12, 1993
League Cup
Arsenal
A
0-2
1
Started
150
Sat Jan 16, 1993
League Tier 1
Chelsea
H
3-0
1
Started
151
Sat Jan 23, 1993
FA Cup
Middlesbrough
H
1-1
1
Started
152
Wed Jan 27, 1993
League Tier 1
Manchester United
A
0-2
1
Started
153
Sat Jan 30, 1993
League Tier 1
Oldham Athletic
H
2-0
1
Started
154
Wed Feb 03, 1993
FA Cup
Middlesbrough
A
3-0
1
Started
155
Sat Feb 06, 1993
League Tier 1
Liverpool
A
0-0
1
Started
156
Sat Feb 13, 1993
FA Cup
Arsenal
A
0-2
1
Started
157
Sat Feb 20, 1993
League Tier 1
Middlesbrough
A
2-1
1
Started
158
Wed Feb 24, 1993
League Tier 1
Queens Park Rangers
H
1-0
1
Started
159
Sat Feb 27, 1993
League Tier 1
Manchester City
H
0-2
1
Started
160
Wed Mar 03, 1993
League Tier 1
Crystal Palace
H
1-1
1
Started
Sun Mar 07, 1993
Friendly
Jersey Portugese
A
10-1
1
Started
161
Sat Mar 13, 1993
League Tier 1
Everton
A
0-3
1
Started
162
Wed Mar 17, 1993
League Tier 1
Norwich City
H
0-3
1
Started
163
Sun Mar 21, 1993
League Tier 1
Leeds United
H
1-1
1
Started
164
Wed Mar 24, 1993
League Tier 1
Southampton
A
2-1
1
Started
165
Sun Apr 04, 1993
League Tier 1
Aston Villa
H
0-1
1
Started
166
Wed Apr 07, 1993
League Tier 1
Blackburn Rovers
H
1-3
1
Started
167
Sat Apr 10, 1993
League Tier 1
Queens Park Rangers
A
3-4
1
Started
Mon Apr 12, 1993
League Tier 1
Tottenham Hotspur
H
2-1
13
Sat Apr 17, 1993
League Tier 1
Wimbledon
A
0-1
13
Wed Apr 21, 1993
League Tier 1
Arsenal
A
1-1
13
Sat May 01, 1993
League Tier 1
Sheffield United
H
0-2
12
Sat May 08, 1993
League Tier 1
Ipswich Town
A
1-2
13
1993-94
Fri Jul 23, 1993
Pre-Season Friendly
Napoli
A
2-1
Started
Thu Jul 29, 1993
Pre-Season Friendly
Bulzano
A
3-1
Started
Sun Aug 01, 1993
Pre-Season Friendly
Slovan Bratislava
A
1-1
Started
Wed Aug 04, 1993
Pre-Season Friendly
Lincoln City
A
5-1
Started
Sat Aug 07, 1993
Pre-Season Friendly
Cambridge United
A
2-3
Started
168
Sun Aug 15, 1993
League Tier 2
Southend United
A
1-1
Started
169
Wed Aug 18, 1993
League Tier 2
Derby County
H
1-1
Started
170
Sat Aug 21, 1993
League Tier 2
Grimsby Town
H
5-3
Started
171
Tue Aug 24, 1993
League Tier 2
Crystal Palace
A
0-2
Started
172
Sat Aug 28, 1993
League Tier 2
Luton Town
A
2-1
Started
173
Wed Sep 08, 1993
Anglo-Italian Cup
Derby County
A
2-3
Started
174
Sat Sep 11, 1993
League Tier 2
Barnsley
A
0-1
Started
175
Wed Sep 15, 1993
Anglo-Italian Cup
Notts County
H
1-1
Started
176
Sun Sep 19, 1993
League Tier 2
Stoke City
H
2-3
Started
177
Tue Sep 21, 1993
League Cup
Wrexham
A
3-3
Started
Sun Sep 26, 1993
League Tier 2
Bolton Wanderers
A
3-4
Sat Oct 02, 1993
League Tier 2
Portsmouth
H
1-1
Sat Oct 16, 1993
League Tier 2
Tranmere Rovers
H
2-1
Sun Oct 24, 1993
League Tier 2
Leicester City
A
0-1
Sat Oct 30, 1993
League Tier 2
Notts County
H
1-0
Wed Nov 03, 1993
League Tier 2
Millwall
H
1-3
Sat Nov 06, 1993
League Tier 2
Birmingham City
A
3-0
178
Sun Nov 21, 1993
League Tier 2
West Bromwich Albion
A
2-0
Started
179
Sat Nov 27, 1993
League Tier 2
Sunderland
A
3-2
(15)
180
Wed Dec 01, 1993
League Cup
Manchester City
H
0-0
Started
181
Sat Dec 04, 1993
League Tier 2
Birmingham City
H
1-0
Started
182
Wed Dec 15, 1993
League Cup
Manchester City
A
2-1
Started
183
Sun Dec 19, 1993
League Tier 2
Southend United
H
2-0
Started
184
Mon Dec 27, 1993
League Tier 2
Middlesbrough
H
1-1
Started
185
Tue Dec 28, 1993
League Tier 2
Bristol City
A
4-1
Started
186
Sat Jan 01, 1994
League Tier 2
Charlton Athletic
H
1-1
Started
187
Mon Jan 03, 1994
League Tier 2
Watford
A
2-1
Started
188
Sat Jan 08, 1994
FA Cup
Sheffield Wednesday
A
1-1
Started
189
Sun Jan 16, 1994
League Tier 2
Tranmere Rovers
A
2-1
Started
190
Wed Jan 19, 1994
FA Cup
Sheffield Wednesday
H
0-2
Started
191
Sun Jan 23, 1994
League Tier 2
Wolverhampton Wanderers
H
0-0
Started
192
Wed Jan 26, 1994
League Cup
Tranmere Rovers
H
1-1
Started
193
Sat Jan 29, 1994
League Cup
Tranmere Rovers
A
0-2
Started
194
Sun Feb 06, 1994
League Tier 2
Leicester City
H
4-0
Started
195
Sat Feb 12, 1994
League Tier 2
Notts County
A
1-2
Started
196
Sat Feb 19, 1994
League Tier 2
Crystal Palace
H
1-1
Started
197
Sat Feb 26, 1994
League Tier 2
Oxford United
A
0-1
Started
198
Wed Mar 02, 1994
League Tier 2
Peterborough United
H
2-0
Started
199
Sat Mar 05, 1994
League Tier 2
Luton Town
H
2-0
Started
200
Sat Mar 12, 1994
League Tier 2
Stoke City
A
1-0
Started
201
Wed Mar 16, 1994
League Tier 2
Barnsley
H
2-1
Started
202
Sat Mar 19, 1994
League Tier 2
Bolton Wanderers
H
3-2
Started
203
Sat Mar 26, 1994
League Tier 2
Portsmouth
A
1-2
Started
204
Wed Mar 30, 1994
League Tier 2
Watford
H
2-1
Started
205
Sat Apr 02, 1994
League Tier 2
Middlesbrough
A
2-2
Started
206
Mon Apr 04, 1994
League Tier 2
Bristol City
H
0-0
Started
207
Sat Apr 09, 1994
League Tier 2
Charlton Athletic
A
1-0
Started
208
Sun Apr 17, 1994
League Tier 2
Millwall
A
2-2
Started
209
Sun Apr 24, 1994
League Tier 2
West Bromwich Albion
H
2-1
Started
210
Wed Apr 27, 1994
League Tier 2
Derby County
A
2-0
Started
211
Sat Apr 30, 1994
League Tier 2
Peterborough United
A
3-2
Started
212
Tue May 03, 1994
League Tier 2
Grimsby Town
A
0-0
Started
213
Sun May 08, 1994
League Tier 2
Sunderland
H
2-2
Started
Tue May 10, 1994
Friendly
Mansfield Town
A
3-3
Started
1994-95
Tue Jul 26, 1994
Pre-Season Friendly
IF Silvia
A
0-1
1
Started
Sat Jul 30, 1994
Pre-Season Friendly
Krylbo IF/Avesta
A
4-1
1
Started
Wed Aug 03, 1994
Pre-Season Friendly
Taby IS
A
8-1
1
Started
Thu Aug 11, 1994
Pre-Season Friendly
Olympiakos
A
2-2
1
Started
214
Sat Aug 20, 1994
League Tier 1
Ipswich Town
A
1-0
1
Started
215
Mon Aug 22, 1994
League Tier 1
Manchester United
H
1-1
1
Started
216
Sat Aug 27, 1994
League Tier 1
Leicester City
H
1-0
1
Started
217
Tue Aug 30, 1994
League Tier 1
Everton
A
2-1
1
Started
218
Sat Sep 10, 1994
League Tier 1
Sheffield Wednesday
H
4-1
1
Started
219
Sat Sep 17, 1994
League Tier 1
Southampton
A
1-1
1
Started
220
Wed Sep 21, 1994
League Cup
Hereford United
H
2-1
1
Started
221
Sat Sep 24, 1994
League Tier 1
Tottenham Hotspur
A
4-1
1
Started
222
Sun Oct 02, 1994
League Tier 1
Queens Park Rangers
H
3-2
1
Started
223
Tue Oct 04, 1994
League Cup
Hereford United
A
0-0
1
Started
224
Sat Oct 08, 1994
League Tier 1
Manchester City
A
3-3
1
Started
225
Mon Oct 17, 1994
League Tier 1
Wimbledon
H
3-1
1
Started
226
Sat Oct 22, 1994
League Tier 1
Aston Villa
A
2-0
1
Started
227
Wed Oct 26, 1994
League Cup
Wolverhampton Wanderers
A
3-2
1
Started
228
Sat Oct 29, 1994
League Tier 1
Blackburn Rovers
H
0-2
1
Started
229
Sat Nov 05, 1994
League Tier 1
Liverpool
A
0-1
1
Started
230
Mon Nov 07, 1994
League Tier 1
Newcastle United
H
0-0
1
Started
Tue Nov 15, 1994
Friendly
Northampton Town
A
1-2
1
Started
231
Sat Nov 19, 1994
League Tier 1
Chelsea
H
0-1
1
Started
232
Sat Nov 26, 1994
League Tier 1
Leeds United
A
0-1
1
Started
233
Wed Nov 30, 1994
League Cup
Millwall
H
0-2
1
Started
234
Sat Dec 03, 1994
League Tier 1
Arsenal
H
2-2
1
Started
235
Sat Dec 10, 1994
League Tier 1
Ipswich Town
H
4-1
1
Started
236
Sat Dec 17, 1994
League Tier 1
Manchester United
A
2-1
1
Started
237
Mon Dec 26, 1994
League Tier 1
Coventry City
A
0-0
1
Started
238
Tue Dec 27, 1994
League Tier 1
Norwich City
H
1-0
1
Started
239
Sat Dec 31, 1994
League Tier 1
West Ham United
A
1-3
1
Started
240
Mon Jan 02, 1995
League Tier 1
Crystal Palace
H
1-0
1
Started
241
Sat Jan 07, 1995
FA Cup
Plymouth Argyle
H
2-0
1
Started
242
Sat Jan 14, 1995
League Tier 1
Blackburn Rovers
A
0-3
1
Started
243
Sat Jan 21, 1995
League Tier 1
Aston Villa
H
1-2
1
Started
244
Wed Jan 25, 1995
League Tier 1
Chelsea
A
2-0
1
Started
245
Sat Jan 28, 1995
FA Cup
Crystal Palace
H
1-2
1
Started
246
Sat Feb 04, 1995
League Tier 1
Liverpool
H
1-1
1
Started
247
Sat Feb 11, 1995
League Tier 1
Newcastle United
A
1-2
1
Started
248
Tue Feb 21, 1995
League Tier 1
Arsenal
A
0-1
1
Started
249
Sun Feb 26, 1995
League Tier 1
Queens Park Rangers
A
1-1
1
Started
250
Sat Mar 04, 1995
League Tier 1
Tottenham Hotspur
H
2-2
1
Started
251
Wed Mar 08, 1995
League Tier 1
Everton
H
2-1
1
Started
252
Sat Mar 11, 1995
League Tier 1
Leicester City
A
4-2
1
Started
253
Sat Mar 18, 1995
League Tier 1
Southampton
H
3-0
1
Started
254
Wed Mar 22, 1995
League Tier 1
Leeds United
H
3-0
1
Started
255
Sat Apr 01, 1995
League Tier 1
Sheffield Wednesday
A
7-1
1
Started
256
Sat Apr 08, 1995
League Tier 1
West Ham United
H
1-1
1
Started
257
Wed Apr 12, 1995
League Tier 1
Norwich City
A
1-0
1
Started
258
Mon Apr 17, 1995
League Tier 1
Coventry City
H
2-0
1
Started
Wed Apr 19, 1995
Friendly
Crusaders
A
2-1
1
Started
259
Sat Apr 29, 1995
League Tier 1
Crystal Palace
A
2-1
1
Started
260
Sat May 06, 1995
League Tier 1
Manchester City
H
1-0
1
Started
261
Sat May 13, 1995
League Tier 1
Wimbledon
A
2-2
1
Started
Wed May 17, 1995
Friendly
Birmingham City
A
4-1
1
Started
Sun May 21, 1995
Friendly
Singapore XI
A
3-1
1
Started
Wed May 24, 1995
Friendly
Adelaide
A
1-1
1
Started
Sat May 27, 1995
Friendly
Western Australia
A
1-2
1
Started
1995-96
Tue Jul 25, 1995
Pre-Season Friendly
Vang FK
A
7-1
1
Started
Tue Aug 01, 1995
Pre-Season Friendly
Stabekk IF
A
3-1
1
Started
Sat Aug 05, 1995
Pre-Season Friendly
Lincoln City
A
3-1
1
Started
Sat Aug 12, 1995
Pre-Season Friendly
Riccioni
A
3-1
1
Started
262
Sat Aug 19, 1995
League Tier 1
Southampton
A
4-3
1
Started
263
Wed Aug 23, 1995
League Tier 1
Chelsea
H
0-0
1
Started
264
Sat Aug 26, 1995
League Tier 1
West Ham United
H
1-1
1
Started
265
Tue Aug 29, 1995
League Tier 1
Arsenal
A
1-1
1
Started
266
Sat Sep 09, 1995
League Tier 1
Coventry City
A
1-1
1
Started
267
Tue Sep 12, 1995
UEFA Cup
Malmo FF
A
1-2
1
Started
268
Sun Sep 17, 1995
League Tier 1
Everton
H
3-2
1
Started
269
Tue Sep 19, 1995
League Cup
Bradford City
A
2-3
1
Started
270
Sat Sep 23, 1995
League Tier 1
Aston Villa
A
1-1
1
Started
271
Tue Sep 26, 1995
UEFA Cup
Malmo FF
H
1-0
1
Started
272
Sat Sep 30, 1995
League Tier 1
Manchester City
H
3-0
1
Started
273
Wed Oct 04, 1995
League Cup
Bradford City
H
2-2
1
Started
274
Sat Oct 14, 1995
League Tier 1
Tottenham Hotspur
A
1-0
1
Started
275
Tue Oct 17, 1995
UEFA Cup
Auxerre
A
1-0
1
Started
276
Sat Oct 21, 1995
League Tier 1
Bolton Wanderers
H
3-2
1
Started
277
Sat Oct 28, 1995
League Tier 1
Queens Park Rangers
A
1-1
1
Started
278
Tue Oct 31, 1995
UEFA Cup
Auxerre
H
0-0
1
Started
279
Mon Nov 06, 1995
League Tier 1
Wimbledon
H
4-1
1
Started
280
Sat Nov 18, 1995
League Tier 1
Blackburn Rovers
A
0-7
1
Started
281
Tue Nov 21, 1995
UEFA Cup
Olympique Lyonnais
H
1-0
1
Started
282
Mon Nov 27, 1995
League Tier 1
Manchester United
H
1-1
1
Started
283
Sat Dec 02, 1995
League Tier 1
Bolton Wanderers
A
1-1
1
Started
284
Tue Dec 05, 1995
UEFA Cup
Olympique Lyonnais
A
0-0
1
Started
285
Sun Dec 10, 1995
League Tier 1
Aston Villa
H
1-1
1
Started
286
Mon Dec 18, 1995
League Tier 1
Manchester City
A
1-1
1
Started
287
Sat Dec 23, 1995
League Tier 1
Newcastle United
A
1-3
1
Started
288
Tue Dec 26, 1995
League Tier 1
Sheffield Wednesday
H
1-0
1
Started
289
Sat Dec 30, 1995
League Tier 1
Middlesbrough
H
1-0
1
Started
290
Mon Jan 01, 1996
League Tier 1
Liverpool
A
2-4
1
Started
291
Sat Jan 06, 1996
FA Cup
Stoke City
A
1-1
1
Started
292
Sat Jan 13, 1996
League Tier 1
Southampton
H
1-0
1
Started
293
Wed Jan 17, 1996
FA Cup
Stoke City
H
2-0
1
Started
294
Sat Jan 20, 1996
League Tier 1
Chelsea
A
0-1
1
Started
295
Wed Jan 31, 1996
League Tier 1
Leeds United
H
2-1
1
Started
296
Sat Feb 03, 1996
League Tier 1
West Ham United
A
0-1
1
Started
297
Wed Feb 07, 1996
FA Cup
Oxford United
H
1-1
1
Started
298
Sat Feb 10, 1996
League Tier 1
Arsenal
H
0-1
1
Started
299
Tue Feb 13, 1996
FA Cup
Oxford United
A
3-0
1
Started
300
Sat Feb 24, 1996
League Tier 1
Everton
A
0-3
1
Started
301
Wed Feb 28, 1996
FA Cup
Tottenham Hotspur
H
2-2
1
Started
302
Sat Mar 02, 1996
League Tier 1
Sheffield Wednesday
A
3-1
1
Started
303
Tue Mar 05, 1996
UEFA Cup
Bayern Munich
A
1-2
1
Started
304
Sat Mar 09, 1996
FA Cup
Tottenham Hotspur
A
1-1
1
Started
305
Wed Mar 13, 1996
FA Cup
Aston Villa
H
0-1
1
Started
306
Sat Mar 16, 1996
League Tier 1
Middlesbrough
A
1-1
1
Started
307
Tue Mar 19, 1996
UEFA Cup
Bayern Munich
H
1-5
1
Started
308
Sat Mar 23, 1996
League Tier 1
Liverpool
H
1-0
1
Started
309
Sat Mar 30, 1996
League Tier 1
Wimbledon
A
0-1
1
Started
310
Sat Apr 06, 1996
League Tier 1
Tottenham Hotspur
H
2-1
1
Started
311
Mon Apr 08, 1996
League Tier 1
Leeds United
A
3-1
1
Started
312
Sat Apr 13, 1996
League Tier 1
Blackburn Rovers
H
1-5
1
Started
313
Wed Apr 17, 1996
League Tier 1
Coventry City
H
0-0
1
Started
314
Sun Apr 28, 1996
League Tier 1
Manchester United
A
0-5
1
Started
315
Thu May 02, 1996
League Tier 1
Newcastle United
H
1-1
1
Started
316
Sun May 05, 1996
League Tier 1
Queens Park Rangers
H
3-0
1
Started
Wed May 08, 1996
Testimonial
Newcastle United
H
6-5
1
Started
(46)
1996-97
Wed Jul 24, 1996
Pre-Season Friendly
Chesterfield
A
1-2
1
Started
Sat Jul 27, 1996
Pre-Season Friendly
Gillingham
A
3-1
1
Started
Thu Aug 01, 1996
Pre-Season Friendly
Hull City
A
4-1
1
Sat Aug 03, 1996
Pre-Season Friendly
Chelsea
H
0-0
1
Started
Sun Aug 04, 1996
Pre-Season Friendly
Manchester United
H
1-3
1
Started
Wed Aug 07, 1996
County Cup
Notts County
H
1-1
1
Started
Sat Aug 10, 1996
Pre-Season Friendly
Shelbourne
A
9-0
1
Started
317
Sat Aug 17, 1996
League Tier 1
Coventry City
A
3-0
1
Started
318
Wed Aug 21, 1996
League Tier 1
Sunderland
H
1-4
1
Started
319
Sat Aug 24, 1996
League Tier 1
Middlesbrough
H
1-1
1
Started
320
Wed Sep 04, 1996
League Tier 1
Southampton
A
2-2
1
Started
321
Sat Sep 07, 1996
League Tier 1
Leicester City
H
0-0
1
Started
322
Sat Sep 14, 1996
League Tier 1
Manchester United
A
1-4
1
Started
323
Wed Sep 18, 1996
League Cup
Wycombe Wanderers
H
1-0
1
Started
324
Sat Sep 21, 1996
League Tier 1
West Ham United
H
0-2
1
Started
325
Tue Sep 24, 1996
League Cup
Wycombe Wanderers
A
1-1
1
Started
326
Sat Sep 28, 1996
League Tier 1
Chelsea
A
1-1
1
Started
327
Sat Oct 12, 1996
League Tier 1
Leeds United
A
0-2
1
Started
328
Sat Oct 19, 1996
League Tier 1
Derby County
H
1-1
1
Started
329
Wed Oct 23, 1996
League Cup
West Ham United
A
1-4
1
Started
330
Mon Oct 28, 1996
League Tier 1
Everton
H
0-1
1
Started
331
Sat Nov 02, 1996
League Tier 1
Aston Villa
A
0-2
1
Started
332
Mon Nov 18, 1996
League Tier 1
Sheffield Wednesday
A
0-2
1
Started
333
Mon Nov 25, 1996
League Tier 1
Blackburn Rovers
H
2-2
1
Started
334
Sat Nov 30, 1996
League Tier 1
Wimbledon
A
0-1
1
Started
335
Mon Dec 09, 1996
League Tier 1
Newcastle United
H
0-0
1
Started
336
Tue Dec 17, 1996
League Tier 1
Liverpool
A
2-4
1
Started
337
Sat Dec 21, 1996
League Tier 1
Arsenal
H
2-1
1
Started
338
Thu Dec 26, 1996
League Tier 1
Manchester United
H
0-4
1
Started
339
Sat Dec 28, 1996
League Tier 1
Leicester City
A
2-2
1
Started
340
Wed Jan 01, 1997
League Tier 1
West Ham United
A
1-0
1
Started
341
Sat Jan 04, 1997
FA Cup
Ipswich Town
H
3-0
1
Started
342
Sat Jan 11, 1997
League Tier 1
Chelsea
H
2-0
1
Started
343
Sun Jan 19, 1997
League Tier 1
Tottenham Hotspur
H
2-1
1
Started
344
Sun Jan 26, 1997
FA Cup
Newcastle United
A
2-1
1
Started
345
Wed Jan 29, 1997
League Tier 1
Coventry City
H
0-1
1
Started
346
Sat Feb 01, 1997
League Tier 1
Everton
A
0-2
1
Started
347
Sat Feb 15, 1997
FA Cup
Chesterfield
A
0-1
1
Started
348
Sat Feb 22, 1997
League Tier 1
Aston Villa
H
0-0
1
Started
349
Wed Mar 05, 1997
League Tier 1
Sheffield Wednesday
H
0-3
1
Started
350
Sat Mar 08, 1997
League Tier 1
Arsenal
A
0-2
1
Started
351
Tue Mar 11, 1997
League Tier 1
Blackburn Rovers
A
1-1
1
Started
352
Sat Mar 15, 1997
League Tier 1
Liverpool
H
1-1
1
Started
353
Sat Mar 22, 1997
League Tier 1
Sunderland
A
1-1
1
Started
354
Mon Mar 24, 1997
League Tier 1
Middlesbrough
A
1-1
1
Started
355
Sat Apr 05, 1997
League Tier 1
Southampton
H
1-3
1
Started
1997-98
Sat Jul 19, 1997
Pre-Season Friendly
Lincoln City
A
1-1
Started
Sat Jul 26, 1997
Pre-Season Friendly
FC Haka
A
2-1
Started
1998-99
Sat Jul 18, 1998
Pre-Season Friendly
Scunthorpe United
A
3-0
13
Started
Thu Jul 30, 1998
Pre-Season Friendly
FC Haka
A
2-0
13
Started
Mon Aug 03, 1998
Pre-Season Friendly
Lincoln City
A
1-0
13
Started
Tue Aug 04, 1998
County Cup
Notts County
H
5-0
13
Started
Mon Aug 17, 1998
League Tier 1
Arsenal
A
1-2
13
Sat Aug 22, 1998
League Tier 1
Coventry City
H
1-0
13
Sat Aug 29, 1998
League Tier 1
Southampton
A
2-1
13
Tue Sep 08, 1998
League Tier 1
Everton
H
0-2
13
Sat Sep 12, 1998
League Tier 1
Chelsea
A
1-2
13
356
Tue Sep 15, 1998
League Cup
Leyton Orient
A
5-1
13
(74)
Sat Sep 19, 1998
League Tier 1
West Ham United
H
0-0
13
357
Tue Sep 22, 1998
League Cup
Leyton Orient
H
0-0
13
Started
Sat Sep 26, 1998
League Tier 1
Newcastle United
A
0-2
13
Sat Oct 03, 1998
League Tier 1
Charlton Athletic
H
0-1
13
Sat Oct 17, 1998
League Tier 1
Leeds United
H
1-1
13
Sat Oct 24, 1998
League Tier 1
Liverpool
A
1-5
13
Tue Oct 27, 1998
League Cup
Cambridge United
H
3-3
13
Sun Nov 01, 1998
League Tier 1
Middlesbrough
A
1-1
13
Sat Nov 07, 1998
League Tier 1
Wimbledon
H
0-1
13
Wed Nov 11, 1998
League Cup
Manchester United
A
1-2
13
Mon Nov 16, 1998
League Tier 1
Derby County
H
2-2
13
Sat Nov 21, 1998
League Tier 1
Tottenham Hotspur
A
0-2
13
Sat Nov 28, 1998
League Tier 1
Aston Villa
H
2-2
13
Mon Dec 07, 1998
League Tier 1
Sheffield Wednesday
A
2-3
13
Sat Dec 12, 1998
League Tier 1
Leicester City
A
1-3
13
Sat Dec 19, 1998
League Tier 1
Blackburn Rovers
H
2-2
13
Sat Dec 26, 1998
League Tier 1
Manchester United
A
0-3
13
Mon Dec 28, 1998
League Tier 1
Southampton
H
1-1
13
Sat Jan 02, 1999
FA Cup
Portsmouth
H
0-1
13
Sat Jan 09, 1999
League Tier 1
Coventry City
A
0-4
13
Sat Jan 16, 1999
League Tier 1
Arsenal
H
0-1
13
Sat Jan 30, 1999
League Tier 1
Everton
A
1-0
13
Sat Feb 06, 1999
League Tier 1
Manchester United
H
1-8
13
Sat Feb 13, 1999
League Tier 1
West Ham United
A
1-2
13
Sat Feb 20, 1999
League Tier 1
Chelsea
H
1-3
13
358
Sat Feb 27, 1999
League Tier 1
Charlton Athletic
A
0-0
13
Started
359
Wed Mar 10, 1999
League Tier 1
Newcastle United
H
1-2
13
Started
360
Sat Mar 13, 1999
League Tier 1
Wimbledon
A
3-1
13
Started
361
Sat Mar 20, 1999
League Tier 1
Middlesbrough
H
1-2
13
Started
362
Sat Apr 03, 1999
League Tier 1
Leeds United
A
1-3
13
Started
363
Mon Apr 05, 1999
League Tier 1
Liverpool
H
2-2
13
Started
364
Sat Apr 10, 1999
League Tier 1
Derby County
A
0-1
13
Started
365
Sat Apr 17, 1999
League Tier 1
Tottenham Hotspur
H
0-1
13
Started
366
Sat Apr 24, 1999
League Tier 1
Aston Villa
A
0-2
13
Started
367
Sat May 01, 1999
League Tier 1
Sheffield Wednesday
H
2-0
13
Started
368
Sat May 08, 1999
League Tier 1
Blackburn Rovers
A
2-1
13
Started
369
Sun May 16, 1999
League Tier 1
Leicester City
H
1-0
13
Started
1999-00
Tue Jul 13, 1999
Pre-Season Friendly
Peterborough United
A
3-1
12
Started
Sat Jul 17, 1999
Pre-Season Friendly
St Patrick's Athletic
A
0-1
12
Started
Sat Jul 24, 1999
Pre-Season Friendly
Brighton and Hove Albion
A
2-2
12
Started
370
Sat Aug 07, 1999
League Tier 2
Ipswich Town
A
1-3
12
Started
371
Wed Aug 11, 1999
League Cup
Mansfield Town
H
3-0
12
Started
372
Sat Aug 14, 1999
League Tier 2
Grimsby Town
H
2-1
12
Started
373
Fri Aug 20, 1999
League Tier 2
West Bromwich Albion
A
1-1
12
Started
Tue Aug 24, 1999
League Cup
Mansfield Town
A
0-1
12
374
Sat Aug 28, 1999
League Tier 2
Queens Park Rangers
H
1-1
12
Started
375
Mon Aug 30, 1999
League Tier 2
Manchester City
A
0-1
12
Started
376
Sat Sep 11, 1999
League Tier 2
Swindon Town
A
0-0
12
Started
377
Wed Sep 15, 1999
League Cup
Bristol City
H
2-1
12
Started
378
Sun Sep 19, 1999
League Tier 2
Wolverhampton Wanderers
H
1-1
12
Started
379
Wed Sep 22, 1999
League Cup
Bristol City
A
0-0
12
Started
(16)
380
Fri Oct 01, 1999
League Tier 2
Barnsley
H
3-0
12
Started
381
Wed Oct 13, 1999
League Cup
Sheffield Wednesday
A
1-4
12
Started
382
Sat Oct 16, 1999
League Tier 2
Sheffield United
A
1-2
12
Started
383
Tue Oct 19, 1999
League Tier 2
Port Vale
A
2-0
12
Started
384
Sat Oct 23, 1999
League Tier 2
Stockport County
H
1-1
12
Started
385
Wed Oct 27, 1999
League Tier 2
Bolton Wanderers
H
1-1
12
Started
386
Sat Oct 30, 1999
League Tier 2
Barnsley
A
0-1
12
Started
387
Sat Nov 06, 1999
League Tier 2
Norwich City
A
0-1
12
Started
388
Sun Nov 14, 1999
League Tier 2
Huddersfield Town
H
1-3
12
Started
389
Sat Nov 20, 1999
League Tier 2
Tranmere Rovers
A
0-3
12
Started
390
Wed Nov 24, 1999
League Tier 2
Portsmouth
H
2-0
12
Started
391
Sat Nov 27, 1999
League Tier 2
Crystal Palace
A
0-2
12
Started
Sun Dec 05, 1999
League Tier 2
Ipswich Town
H
0-1
12
Fri Dec 10, 1999
FA Cup
Oxford United
H
1-1
12
Wed Dec 15, 1999
League Tier 2
Fulham
H
0-0
12
Sat Dec 18, 1999
League Tier 2
Crewe Alexandra
H
1-0
12
Sun Dec 26, 1999
League Tier 2
Blackburn Rovers
A
1-2
12
Tue Dec 28, 1999
League Tier 2
Birmingham City
H
1-0
12
Mon Jan 03, 2000
League Tier 2
Charlton Athletic
A
0-3
12
Sat Jan 08, 2000
FA Cup
Oxford United
A
3-1
12
392
Sat Jan 15, 2000
League Tier 2
Grimsby Town
A
3-4
12
(72)
Wed Jan 19, 2000
FA Cup
Chelsea
A
0-2
12
Sat Jan 22, 2000
League Tier 2
West Bromwich Albion
H
0-0
12
393
Sat Jan 29, 2000
League Tier 2
Queens Park Rangers
A
1-1
12
Started
Sat Feb 05, 2000
League Tier 2
Manchester City
H
1-3
12
Sat Feb 12, 2000
League Tier 2
Walsall
A
2-0
12
Sat Feb 19, 2000
League Tier 2
Crystal Palace
H
2-0
12
Sat Feb 26, 2000
League Tier 2
Wolverhampton Wanderers
A
0-3
12
Sat Mar 04, 2000
League Tier 2
Swindon Town
H
3-1
12
Wed Mar 08, 2000
League Tier 2
Norwich City
H
1-1
12
Sat Mar 11, 2000
League Tier 2
Portsmouth
A
1-2
12
Sat Mar 18, 2000
League Tier 2
Tranmere Rovers
H
1-1
12
Tue Mar 21, 2000
League Tier 2
Huddersfield Town
A
1-2
12
Sat Mar 25, 2000
League Tier 2
Blackburn Rovers
H
0-1
12
Sat Apr 01, 2000
League Tier 2
Crewe Alexandra
A
3-0
12
Sat Apr 08, 2000
League Tier 2
Charlton Athletic
H
1-1
12
Sat Apr 15, 2000
League Tier 2
Birmingham City
A
1-0
12
Sat Apr 22, 2000
League Tier 2
Sheffield United
H
0-0
12
Mon Apr 24, 2000
League Tier 2
Fulham
A
1-1
12
Sat Apr 29, 2000
League Tier 2
Port Vale
H
2-0
12
Tue May 02, 2000
Testimonial
Forest European Legends
H
1-4
12
Started
Sun May 07, 2000
League Tier 2
Stockport County
A
3-2
12
2004-05
Mon May 16, 2005
Testimonial
International Select XI
H
5-4
100
Started